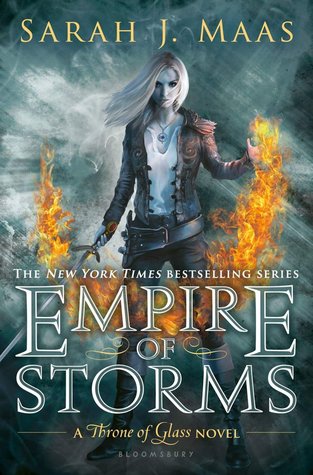 E M P I R E   O F   S T O R M S

A u t h o r : Sarah J. Maas

P u b l i c a t i o n : September 6th 2016 by Bloomsbury USA Children

G e n r e : Fantasy, YA, NA, Action, Adventure, Romance

S y n o p s i s : The long path to the throne has only just begun for Aelin Galathynius. Loyalties have been broken and bought, friends have been lost and gained, and those who possess magic find themselves at odds with those don't.

As the kingdoms of Erilea fracture around her, enemies must become allies if Aelin is to keep those she loves from falling to the dark forces poised to claim her world. With war looming on all horizons, the only chance for salvation lies in a desperate quest that may mark the end of everything Aelin holds dear.

Aelin's journey from assassin to queen has entranced millions across the globe, and this fifth installment will leave fans breathless. Will Aelin succeed in keeping her world from splintering, or will it all come crashing down?
---
R E V I E W
"Nameless is my price."

Remember when I said that the Throne of Glass series put me into my longest reading slump ever? Well… reading the fifth book Empire of Storms was the COMPLETE opposite effect of that.
It took me weeks to get a hold of myself and write a sane review because I was in a daze most of the time, shocked at the events that had transpired in this book. Even when I delved into another book, I still couldn't get EoS out of my mind. It was just brilliantly crafted, with its epic plot twists and fast-paced narration. There were times I kept biting my lip, chanting "Oh, god. Oh, god. Oh, god.", whenever the characters plunged themselves into dangerous situations and thought they'd be doomed.
"We'd better eat before we raise hell."
― Sarah J. Maas, Empire of Storms
I also grew to love the characters more in this book – both old and new. But the absence of some totally disappointed me. Even as I reached the last chapter, I expected them to make an appearance but there wasn't even one sign of them in the book – not one word from them and it's got me worried and thinking what could've gone possibly wrong with their journey. Seriously, I can't handle it if something happens to my beloved Chaol, much as he annoyed me in the previous book. Maas better prepare an epic comeback for them in the next instalment or else.
As for Aelin's group, they just keep growing awesome and awesome. With the addition of their crew, things got more exciting, along with the growing tension between some of them. I enjoy their interactions, the bonds they've made and the challenges they faced. I might even have a grudging respect for some of the villains, particularly Lorcan. I have mixed thoughts about Maeve even after that scene. I don't know – I still can't make up my mind whether I really hate her or not.
And Lysandra – my god, she's just become my new favorite. I really, really like her. I find shapeshifters super-cool but that's not just what drew me to her. After joining the crew, she sort of became Aelin's closest confidante and right-hand, and Aelin trusted Lysandra to do things that the others couldn't – extremely difficult choices that if presented to anyone else, they would certainly balk or object. But Lysandra isn't like that. She does what needs to be done with a cool acceptance, but it doesn't mean that she wants to. She's extremely loyal, and I love that about her. I also love how Maas had put her on the spotlight in one of the chapters.
"I'm going to call in old debts and promises. To raise an army of assassins and thieves and exiles and commoners."
― Sarah J. Maas, Empire of Storms
And of course, I also love Aelin. She still hasn't lost that trademark swag we are all very fond of, plus her tendency for theatrics (even if it was her own undoing). And can I just mention how funny her arguments with Rolfe are? The way Rolfe reacts at everything Aelin says entertains me so much, I keep wishing they have another round. But enough about Rolfe, what I'm trying to say is Aelin is still Aelin, but Maas was able to develop her character further in EoS. At the beginning, Darrow emphasized how much he rejected Aelin as his queen… that Aelin didn't deserve the title Queen of Terrasen. But after everything that happened, I think we can all agree that Aelin has stepped up to her role rather stunningly.
"A court that wouldn't just change the world. It would start the world over."
― Sarah J. Maas, Empire of Storms
As for the rest – Dorian, Manon, Elide, Aedion, Rowan, Gavriel and Fenrys – I love them all to pieces too. I could describe my feelings for them one by one in detail but that would take PAGES. And even though it should bother me, the fact that their group were made up of nothing but royalties, nobilities and high-ranking warriors never ceases to amaze me. Not to mention the fact they each have their own OTPs. Call me gullible,but  I don't care.
"I love you. There is no limit to what I can give to you, no time I need. Even when this world is a forgotten whisper of dust between the stars, I will love you."
― Sarah J. Maas, Empire of Storms
Furthermore, I wasn't bored by Rowan and Aelin's relationship. I am still very awed by the depth of their relationship and the things they went through together, but I have to say that their sex scenes were a little bit too over the top for my taste.
But most of all, the similarities of EoS to ACOMAF was super noticeable. It didn't bother me much, but it certainly decreased the level of surprise I felt over some of the plot twists. I wonder if this was intentional, if Maas is planning for the worlds of ACOMAF and EoS to overlap, or if this was just a result of being unable to come up with different and more creative twists. Either way, it doesn't diminish my need to know what happens next for our beloved characters.
"The world," Aelin said, "will be saved and remade by the dreamers, Rolfe."
― Sarah J. Maas, Empire of Storms
All in all, EoS is a book that totally blew my mind; it was extremely exciting, fast-paced and very emotional. I wouldn't mind reading it again and again, despite its sheer size. Mind you, I stayed up 'til morning to finish it, not wanting to lose my thrill over the story for one second.  That's how addicted I was to EoS.
How about you? Have you read this book yet? If not, then pick it up soon and prepare to be amazed! 😎😎😎😉😉😉
---
R A T I N G
Outstanding (★★★★★)