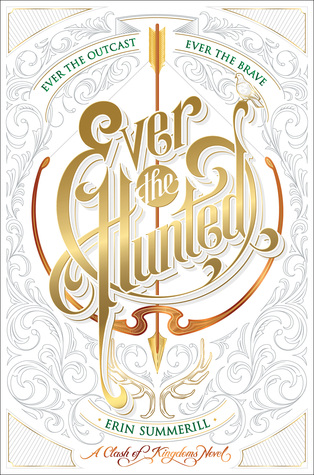 E V E R   T H E   H U N T E D
A U T H O R : Erin Summerill
G E N R E : Fantasy, YA
P U B L I C A T I O N : December 27th 2016 by Harcourt Childrens Books
F O R M A T : eARC
S O U R C E : NetGalley
S Y N O P S I S : Seventeen year-old Britta Flannery is at ease only in the woods with her dagger and bow. She spends her days tracking criminals alongside her father, the legendary bounty hunter for the King of Malam—that is, until her father is murdered. Now outcast and alone and having no rights to her father's land or inheritance, she seeks refuge where she feels most safe: the Ever Woods. When Britta is caught poaching by the royal guard, instead of facing the noose she is offered a deal: her freedom in exchange for her father's killer.
However, it's not so simple.
The alleged killer is none other than Cohen McKay, her father's former apprentice. The only friend she's ever known. The boy she once loved who broke her heart. She must go on a dangerous quest in a world of warring kingdoms, mad kings, and dark magic to find the real killer. But Britta wields more power than she knows. And soon she will learn what has always made her different will make her a daunting and dangerous force.
(**Special thanks to NetGalley and the publisher for providing me a copy of Ever The Hunted in exchange for an honest review.)
---
MY THOUGHTS
Can you tell this isn't going to be a positive review?
Maybe not.. but I just feel like warning you ahead.
Despite my initial confidence, I don't think I've ever been more disappointed in a book than in Ever the Hunted. Just ask my best friend. She knows how gaga I've been over this book since the first time I saw it. And yet, when I finally managed to grab my hands on an ARC, the excitement dwindled down as I read the first few chapters.
It only got progressively worse the farther I read. There were so many things that prevented me from enjoying it such as the plot, the characters and the writing itself. I found myself glazing over some of the pages which doesn't usually happen, even with terrible books. The pace was agonizingly slow.. and inconsistent. And most of the plot elements used in the story are ones I've already encountered before.
I also found a lot of contradictions within the story, such as Britta and Cohen's characters. They're supposed to be two of the best hunters in the kingdom and yet they didn't convince me. They were far too impatient, reckless and overdramatic – traits that just don't coincide with my idea of a real hunter. To top it all off, Britta keeps getting complimented for every little thing or deed she does, which in my opinion, isn't much.
And then there's the romance. I'm pretty sure either Lief or Captain Omar would make much more interesting love interests for Britta. Unlike Cohen, I understood their personalities in the short pages they appeared in. Cohen, though, is your typical handsome, young guy who thinks he knows what's best for a woman, and among other things, a blasted hypocrite. I plainly dislike him. It's getting tiresome to keep hearing the I-just-don't-want-you-to-get-hurt kind of excuse, which in this case, is not even convincing anymore. I'm also irritated by the way Britta acts around him. She always acts like a flustered high-school girl. Even when she gets mad at him, her anger melts right away after a little groveling on Cohen's part. It's a wonder how my eyes managed to stay in their sockets the whole time I'm reading one of their cheesy scenes. 'Cause I swear, they made me roll my eyes heavenwards. My point is, the romance aspect just seems to overwhelm the entire plot and I'm sick of Britta gushing nonstop over Cohen when all I wanted was for the story to focus on the hunt and the impending war.
The hunt – if you could call it hunt – was solved in about one-third of the book. Early on, I already guessed who the real murderer was and sure enough, I was right – though it took the characters to figure it out only in the last chapters. The predictability of it all just took the joy out of me and just led me to resign myself into seeing through this book. In some ways, this book also reminded me of The Great Hunt by Wendy Higgins, which to be honest, was a lot better since it had an element of surprise and more reasonable plot twists. In Ever the Hunted, the author took out one of my favorite characters – one of the ONLY FEW – which just made everything worse.
It's just a shame because most people in the minority like me thought this book had a lot of potential. There's a lot of major adjustments needed to be made and I could only hope that the final edits and the sequel would be infinitely better.
So if you're looking for a high fantasy or a great adventure, I wouldn't recommend this book. I think Ever the Hunted would appeal to readers who are newer to the genre, and most especially to girls looking for a fantasy-romance (though the romance in my opinion isn't really much great).
I'm still open to reading Summerill's books, don't get me wrong. I'm just disappointed that this didn't turn out to be the debut novel I was hoping for.
---
R A T I N G
Dreadful (⭐)