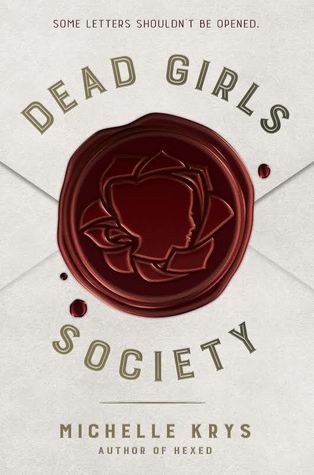 D E A D   G I R L S   S O C I E T Y
Author: Michelle Krys
Genre: YA, Contemporary, Mystery, Thriller, Suspense
Published: November 8th 2016 by Delacorte Press
Synopsis:
"You are cordially invited to participate in a game of thrills and dares. Tell no one, and come alone. If you dare."
Hope is sick of everyone treating her like she's breakable. Sure, she has cystic fibrosis (basically really bad lungs), but she's tired of being babied by her mom and her overprotective best friend, Ethan, not to mention worrying about paying for her expensive medication and how she's going to afford college. And she's bored with life in her run-down New Orleans suburb.
When an invitation arrives from a mysterious group that calls itself the Society, Hope jumps at the chance for some excitement. This could be her ticket out. All she has to do is complete a few dares and she might win some real money.
But the Society isn't all it seems . . . and soon Hope finds that playing the game isn't a choice—it's a requirement.

---
R E V I E W
My first impression of this book was that it's about a girl getting recruited by a vampire sorority. So yeah I was pretty excited since I haven't read any vampire novels in a while. (Please don't ask me how that idea got into my head. 'Cause I really don't know either.) I didn't expect it to be a psycho-thriller but all the same, it made me curious.
Okay, so I'm quite disappointed there weren't any vampires involved, but regardless, the overall concept and premise of Dead Girls Society is very intriguing. Five different girls getting invited to compete in a game of dares; they agree to participate until they realize it's not just their secrets at stake anymore, but also their lives. Now doesn't that sound exciting?
The main character is Hope who has cystic fibrosis, therefore she lived a very sheltered life, wanting some excitement. On that note, I could totally relate to her and yet I can't say I'm a huge fan of hers. I was really more interested in Hartley, Farrah and Lyla since they seem to be the most well-done out of all the characters. With Hope, I'm not sure if a girl with cystic fibrosis could do all that stuff and still survive. It's just hard to believe. Plus I wasn't invested in her love interests either. Ethan was so bland he didn't even get to my list of suspects whereas I found Tucker to be untrustworthy even though I liked him for Hope. And anyway, out of all the characters, it struck me weird that only Ethan walked away totally unscathed. Considering he was the one closest to Hope, you'd think the culprit would've used him as one of his puppets. But nah, he was left unaffected through it all.
I would've loved it too if the girls showed a little bit more camaraderie to liven up the emotional aspect of the story. But since it's mostly plot-driven, I decided not to dwell on it too much and just enjoy figuring out the mystery part. To be honest, their dares are really terrifying, and the culprit… even more so. I was really horrified when I found out what happened to one of my favorite characters – it was just so brutal.
All in all, Dead Girls Society was a satisfying read. The writing was neither sloppy nor impressive, but good enough to make you turn page after page. It's going to confuse you a lot but not to the point that it will frustrate you. The author does a good job of dropping subtle hints and that's a huge plus for me, since I particularly dislike any mystery novels that are too predictable and leave readers with such obvious hints. So I'm glad as hell that DDS isn't one of those.
If you're looking for a quick mystery thriller, then this book is for you.
---
R A T I N G
Acceptable (★★★)