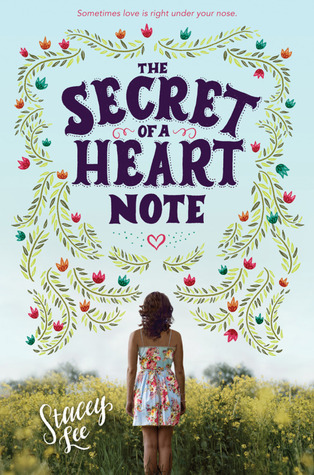 T H E   S E C R E T   O F   A   H E A R T   N O T E
Author: Stacey Lee
Genre: YA, Contemporary, Fantasy, Romance, Magical Realism
Published:  December 27th 2016 by Katherine Tegen Books
Synopsis:
An evocative novel about a teen aroma expert who uses her extrasensitive sense of smell to mix perfumes that help others fall in love while protecting her own heart at all costs.
Sometimes love is right under your nose. As one of only two aromateurs left on the planet, sixteen-year-old Mimosa knows what her future holds: a lifetime of weeding, mixing love elixirs, and matchmaking—all while remaining incurably alone. For Mim, the rules are clear: falling in love would render her nose useless, taking away her one great talent. Still, Mimosa doesn't want to spend her life elbow-deep in soil and begonias. She dreams of a normal high school experience with friends, sports practices, debate club, and even a boyfriend. But when she accidentally gives an elixir to the wrong woman and has to rely on the lovesick woman's son, the school soccer star, to help fix the situation, Mim quickly begins to realize that falling in love isn't always a choice you can make.
At once hopeful, funny, and romantic, Stacey Lee's The Secret of a Heart Note is a richly evocative coming-of-age story that gives a fresh perspective on falling in love and finding one's place in the world.
---
MY THOUGHTS
I could devour this entire book over and over – and still never get tired of it.
From the moment I started reading that opening paragraph, I KNEW this story was one I would most definitely fall in love with. (I think this has partly to do with the mention of blueberries. LOL)
"Most people don't know that heartache smells like blueberries. It's not the only scent but it's the main one, and if someone comes to us smelling like blueberry pie, Mother and I turn them away. The heartbroken need time to heal before we can work our magic."
I really like the idea of having a teenage aromateur/love witch as a main character. Mimosa, a.k.a Mim, has an occupation that provides us a very interesting and fresh perspective of the world, describing people and emotions in terms of smells and fragrances. She is a love witch – an aroma expert with an extraordinary sense of smell and helps people sort their love issues through potions and elixirs. But that's not the only great thing about Mim. Magically-enhanced noses aside, Mim has a very likeable personality. She's sweet, quirky and smart. She's not a bitch but she's no pushover either. She's a great friend to have and a daughter that any mother would be proud of, even though sometimes I don't agree with her choices. But because of some jinx, their kind isn't supposed to fall in love, or else they would lose their gift like what happened with Mim's aunt. I really found this to be an interesting concept, and I love the play of events that unfolded once her troubles had started.
"Love witches can't fall in love."
Most of the story is filled with teenage angst and drama but you'll find more than what you're expecting. It's not just about the romance but also about family, friendships and even rivalries. It even gives you a fresh take on falling in love.
The Secret of a Heart Note really sets itself apart because of its beautifully inspired writing. It'll tug on your heartstrings, make you fall in love with each of the characters, keep you riveted until the last page and have you grinning from ear to ear when you are finished. I was in awe the whole time I was reading it; the vivid descriptions in this book makes you feel like you're experiencing the very scents yourself, as my friend Steph rightly puts it. I savored every chapter, even those opening quotes. Plus I'm also feeling grateful since this book saved me from having a totally bad day.
This has also been a great eye-opener too. Not just for teens. And I don't think it matters whether you're a kid, a teenager or an adult – this book will definitely get to your heart, like it or not.
LAST WORD:
Right now, I know I'm doing a terrible job describing my feelings but… Guys… YOU. HAVE. GOT. TO. READ. THIS. BOOK. ASAP. I promise you it's a story you will never forget. Don't wait. This book is not just one of the best reads I had this year but also in my entire life.
---
Favorite Quotes
"If the puddles get too big to jump over, just step through them."
"What I'm saying is, without hope, there could be no disappointment."
"My mother always says, don't throw away a bucket of ice if you think there might be a diamond inside."
"Somewhere between right and wrong lies a garden surrounded by thorns, and I have met you there."
"Love witches can't fall in love."
"We open their eyes to the possibility of love. But the decision is theirs."
"I'm sorry, all I meant was you're not chocolate, vanilla or strawberry. You dare to be yourself."
"You hold your head up even when people say you eat silkworms."
"Are we in a bad movie? Attack of the Killer Bimbos? Close Encounters of the Turd Kind?"
"What would be so wrong about fixing Vicky with Drew? He likes drawing soul-sucking demons, and she is a soul-sucking demon. It's perfect."
"Certain people are supposed to be reliable, like rhubarb," I tell him. "Once you plant the crowns in the ground, you don't have to worry about them. They take care of themselves. Parents should be like that."
"I waver between laughter and tears as I stumble away. BBG was never the answer. All I had to do was lie."
"Beware, ye aromateur; lay your traps of love, but do not let yourself get caught."
"Everything smells, especially emotion."
"Bad deeds, like pesky seeds, grow into vicious weeds."
"Though cowslips line thy mapled cart, the wise will catch a falling heart."
"We do not pick our noses. Our noses pick us."
"Elixirs whisper to the mind what the heart already knows."
"Just because we're born with it, doesn't mean it's easy."
"The difference between infatuation and love can be measured by the distance between two pairs of lips."
"Never use pennyroyal. It's name means, 'you had better go.'"
"If only people spoke their hearts rather than their minds, they would have no use for us."
"As Lord Tennyson observed, 'tis better to have loved and lost, than never to have loved at all."
"Whether a plant feels pain when cut is open to debate. What is not, is that pruning is necessary if the plant is to thrive."
"Layla's Sacrifice smells exactly like a mother's love, honed by fire, tested through time."
---
R A T I N G
Outstanding (★★★★★)