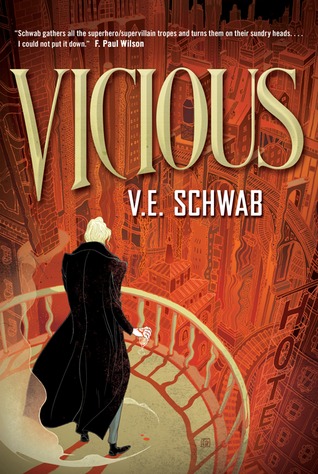 V I C I O U S
Author: V.E. Schwab
Genre: Fantasy, Sci-Fi, Adult, Paranormal
Published: Sept. 24, 2013 by Tor
RATING: 5 stars (★★★★★)
Synopsis: (Goodreads)
Victor and Eli started out as college roommates—brilliant, arrogant, lonely boys who recognized the same sharpness and ambition in each other. In their senior year, a shared research interest in adrenaline, near-death experiences, and seemingly supernatural events reveals an intriguing possibility: that under the right conditions, someone could develop extraordinary abilities. But when their thesis moves from the academic to the experimental, things go horribly wrong. Ten years later, Victor breaks out of prison, determined to catch up to his old friend (now foe), aided by a young girl whose reserved nature obscures a stunning ability. Meanwhile, Eli is on a mission to eradicate every other super-powered person that he can find—aside from his sidekick, an enigmatic woman with an unbreakable will. Armed with terrible power on both sides, driven by the memory of betrayal and loss, the archnemeses have set a course for revenge—but who will be left alive at the end?
---
MY REVIEW:
OK… Deep breaths, Jay, deep breaths. 
It took me a lot of time and effort before I finally pulled myself together to write a sane enough review.
Vicious was more than anything I imagined it would be. V.E. Schwab is hands-down a GENIUS for writing such a wicked, brilliant story that had me pinned right from the beginning to the last minute.
Every single element of the story was just fantastic – from the adrenaline-inducing plot down to the cast of multi-layered, morally ambiguous characters; the dark twisted feels and the characters' unexpectedly clever schemes; the fast-paced writing and medical contexts within the story. IT WAS ALL PERFECT.
Also, now, I have my new favorite anti-heroes. I've always been fond of reading these types of characters. I love how evil & twisted Victor and Eli Ever are, but Victor will always be ultimately my favorite of the two.
And it's such an impeccable timing that I should read Vicious around this time of the year – when I'm about to start my thesis soon and currently formulating a title. Every time Eli & Victor discuss their ideas or talked about research topics, I was absolutely riveted and nodding along with them.
Of course, it was easy for me to relate to their personalities too. Well, to Victor's, more like. We have so much in common (except for the murdering part – I can't even kill a cockroach) – like ambition, cynicism , jealousy, etc. And when he mentioned that his passion was in biology – I thought he was my soulmate. (LOL. No judging please.)
The only difficulties I encountered while reading this book was getting into it, and getting used to the alternating timelines and POVs. But these things didn't matter at all the farther I got sucked into the book.
Anyways, I urge you guys to read Vicious, if you still haven't yet. I promise you it's gonna be worth it. V.E. Schwab is simply an expert at creating complex characters and exploring their monstrous sides, along with plots that will send you biting your nails every time one of the characters plunge themselves into danger.
Overall, Vicious is one of the most ExtraOrdinary reads I've ever had this year. Is it also one of yours? Share your thoughts with me in the comments below!
Have a good day everyone! 🙂
–Jay